Shantou Huaying Soft-Packing Equipment Plant Ltd.,a Sino-Switzerland joint venture limited company, as the main supplier specialized in making complete sets of printing and coating equipment in China, is a hi-tech company that brings together research, development, production, sales and service. With the mission of "Huaying equipment, the Best of China" and the management idea of "Dedication, Integrity, Innovation, and Forever Forward", Huaying sticks to the principle of "Quality first" and always keeps its products at the top level in China.
Huaying always pay utmost attention to the technical innovation and development so as to set up a "Guangdong Printing & Coating Engineering Technology R&D Center" which infrastructure is set forth as below: Mechanical Engineering Design & Manufacture Division, Industrial Control Automation Technological Division, and Macromolecule Chemistry Technological Division. Furthermore, Huaying has committed themselves on the national key projects for many years. Hence, Huaying has been awarded as a "State High-Tech" enterprise and "Famous brand" for years. Also, Huaying has got the approval of ISO9001:2008 Quality-Management System and CE Certification.
In 2011, Huaying establishes Sino-Switzerland joint venture company with the world's leading supplier of special coating equipment- Polytype Converting Group (Switzerland). They focus on R & D, production and sales of hi-end special coating equipment.
Major products include:
Ⅰ Production Line for Printing & Laminated Film
Y1: Rotogravure / Flexible Printing Machine Series
Y2: Solventless / Solvent-Based Lamination Machine Series
Y3 : Laminated-Film Pouch Making Machine Series
Y4: Printing Product Inspector & Rewinder Series
Y5: Printing / Coating / Laminating Multi-Functional Production Line Series
Ⅱ Production Line for Functional Coating Material
T1: Digital Release Label / Business Consumable Paper - Converting Equipment
T2: Packaging & Decoration Functional Film / Sheet- Converting Equipment
T3: Transfer Type Packaging / Decoration Process -Converting Equipment
T4: Rolled Sheet Metal – Converting & Laminating Equipment
T5: New Engineering Material (Optics / Electricity / Energy / Special)- Converting Equipment
Ⅲ Energy Saving and Emission Reduction - Technology & Equipment
J1: Energy Saving & Emission Reduction Equipment for Printing Machine
J2: Energy Saving & Emission Reduction Equipment for Wet / Dry Laminating Machine
J3: Energy Saving & Emission Reduction Equipment for Coating Machine
VOCs /CO2 Emissions Treatment for Printing/Coating Equipment – Engineering Design and Industrial Control System
J5 Printing / Coating Workshop Environment - Technical Improvement Product
Ⅳ Experiment & Pilot Line for New Product – Database System
Printing and Lamination Film Industry – Pilot Line
Functional Coating Material Industry - Pilot Line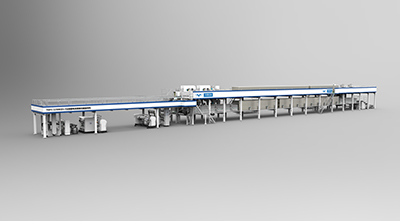 ▼ Flat plat solar power back board coating and laminating production line:
★ Summarize and function:
This series of machines is the Technological achievements in scientific research and strategic cooperation that combine of Huaying & Academics & Polymer coating fluid. Now we already formed two products series which are solar energy power back board coating equipment, solar energy power back board laminating equipment. The equipment can apply to the production of the functional coating material such as solar back board fluorocarbon coatings, solar back board composite material etc. The capacity of this machine is 3 or 4 times more than the 20m/min converting line.
★Core competition:
① Advanced performance: Guangdong Province Net Technical Product of 2014. The scientific research achievement project of the macromolecule material, high grade production equipment, high performance final product. We already formed the supply system combine the full production technology, production equipment; macromolecule coated liquid, final product quality control.
② Stability performance:
We have already formed a steady professional team that integrate the scientific research design, product manufacturing and sales service. We coagulate many years'comprehensive resources and win the honor of "Best Product of China ".
③ Technical differences:
Configured with modularization coating unit, double station high speed non-stop feeding unit, Simulation design platform for oven energy saving. We can not only offer the optimization plan for the oven exhaust VOCs catalytic combustion and thermal energy utilization to customer but also can offer the whole technology and coated liquid supply channel of the final product to customer.