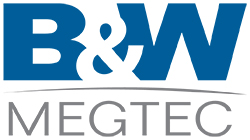 Babcock & Wilcox MEGTEC (B&W MEGTEC)
Babcock & Wilcox MEGTEC (B&W MEGTEC) provides custom designed and manufactured drying systems and environmental compliance solutions that oxidize, filter, recover and/or purify vapor-phase and liquid effluents. B&W MEGTEC also offers complete coating lines for battery electrode manufacturing, as well as stand-alone components, integrated line solutions, and process optimization services for coating, laminating, packaging, and other advanced materials markets.
B&W MEGTEC provides systems solutions that include patented non-contact dryers and ovens for traditional converting markets, as well as in emerging markets for new and advanced materials.
With over 100 patents in its technical portfolio, B&W MEGTEC holds a leadership position in the digital printing market. Its capabilities in dryers, splicers and rewinders span the entire digital press line.
Products & Services:
Recovery and purification of solvents
Particulates, acid gas and NOx control
VOC abatement
Specialized coating and drying systems for advanced battery electrode production
Dryers and ovens
Proprietary dryer nozzle designs and configurations
Pilot line testing services
Aftermarket solutions